Calcutta Quartz Stone Countertop Wholesale
Calcutta Quartz Stone Countertop
has a warming effect on any space, even when the rest of the décor is either neutral or dark, as seen in this sparely designed kitchen.
Calacatta Nuvo
is also ideal for bathrooms, providing generous warmth and light that blends with any design style. Though you probably associate marble bathrooms with Baroque palaces,
Calcutta Quartz Stone
can be used to strike a good balance between ultra-luxe and basically beautiful. In this modern bathroom, we see
Calcutta Quartz Stone
serving as a neutral yet bright backdrop for the minimalist décor and fixtures. We love how balanced this design is, as well as the way the color variation in the surface quartz both pulls together and enhances the palette.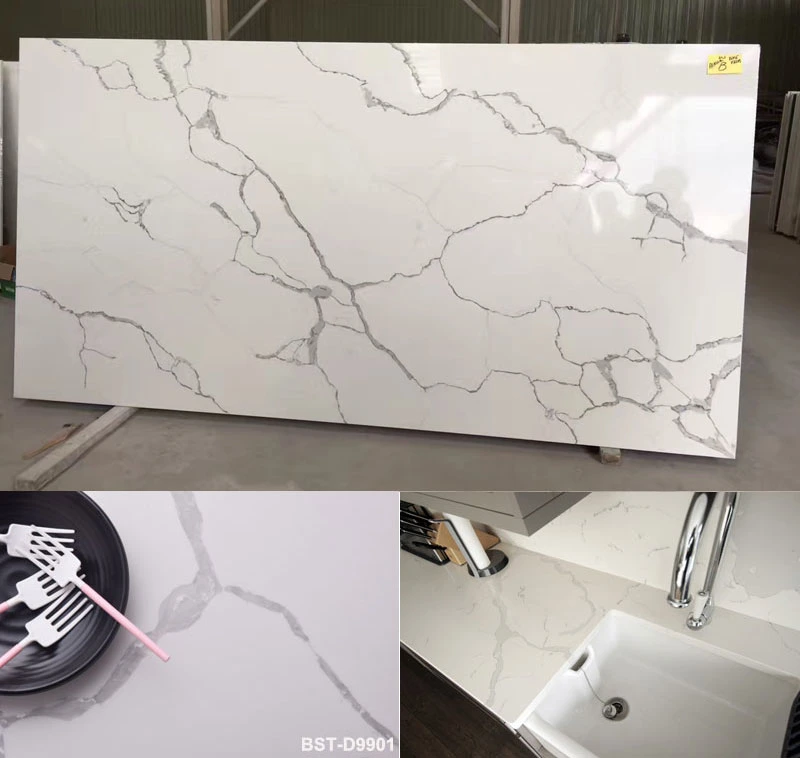 Ingredient

Natural Quartz

93% (purified)

Unsaturated polyester resin

5%

Color and antibiotic substance

2%

3000*1400mm, 3200*1600mm, other sizes available

12, 15, 18, 20, 25, 30mm

400*400mm, 600*600mm, 800*800mm, other sizes

Certificate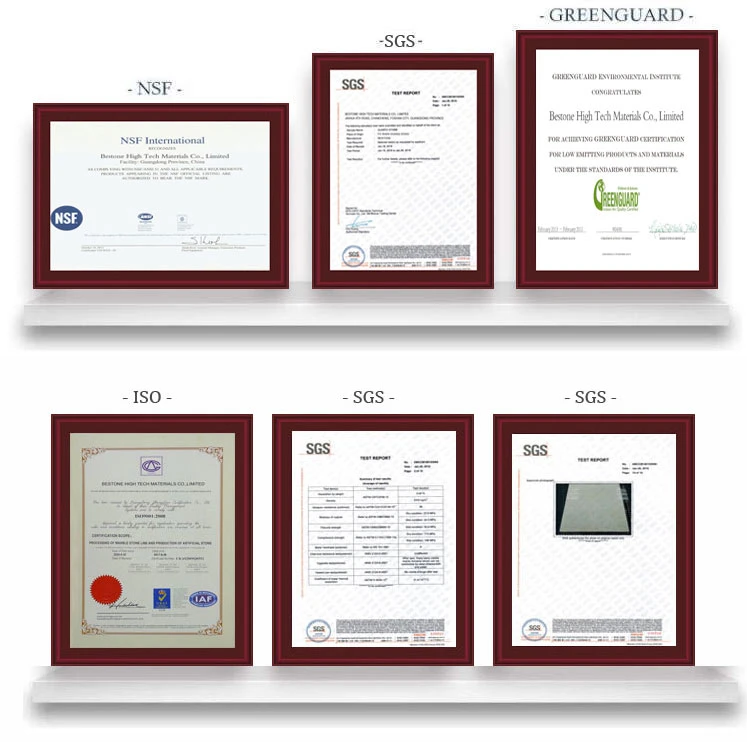 Packaging & Shipping







Company Information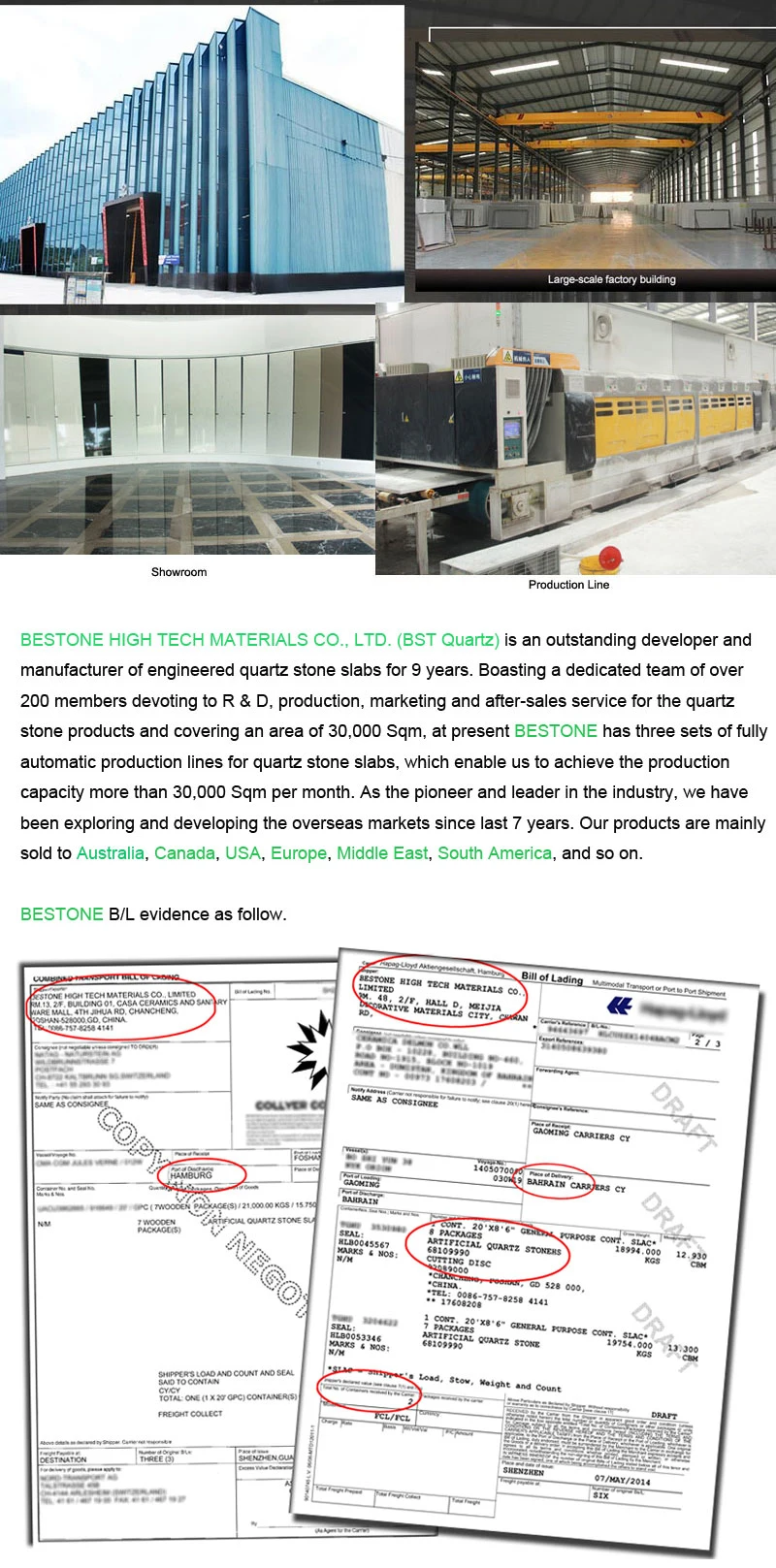 FAQ
1. Where should the quartz stone be used?
Quartz stone must be used indoor such as kitchen worktops, bathroom and vanity tops and floor tiles, where are not exposed to direct sunshine.
2. Why should we use quartz stone other than natural stone?
Compared with natural stone, quartz stone has higher density and hardness, less water absorption, more durable and less maintenance, and better consistent color tone.
3. How should the quartz stone slabs be stocked temporarily?
The quartz stone slabs must not be exposed to the sunshine directly, and slabs must be erected vertically.
4. Is BESTONE trustable and reliable?
Reputation is the life of BESTONE who is verified by Alibaba and his third party. All customers are warmly welcome to visit BESTONE before ordering, and BESTONE would visit customers regularly for better understanding and support to customers.
5. Is BESTONE professional and experienced?
BESTONE has been exporting the quartz stone slabs and prefabricated tops globally for over 10 years, with 0 complaint and dissatisfaction.
6. Has BESTONE ever taken part in any exhibition?
Every year BESTONE takes part in exhibitions in USA, Europe, Dubai, Brazil, Asia, and so on.
7. Is it possible to inspect the cargos in BESTONE factory before loading?
Yes, all customers are warmly welcome to inspect the cargos before loading.
8. What information should the customers provide to BESTONE for making the prefabricated tops?
The customers should provide shop drawings or hand-written sketch with details of dimension and edge profile and exact quantity.
9. How does BESTONE make the sink cut-out?
BESTONE makes the sink cutout by CNC cutting machine with perfect sizes and fine finishing.
10. How does BESTONE polish the edges of prefabricated tops?
BESTONE polishes the edges by automatic polishing machine with higher efficiency and perfect finishing.